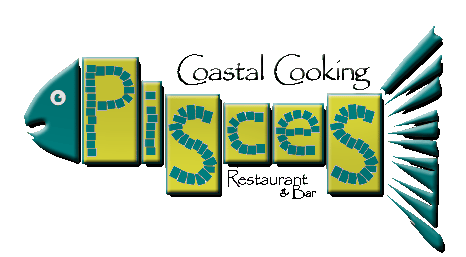 Bar seats and high tops are available by phone or walk in. Pop in to see James at the bar!
Thank you for a great season! See you in the Spring! Until then stay safe, healthy and happy!
To join our waitlist please call 508-432-4600
RESERVATIONS ARE NOW AVAILABLE RIGHT HERE ON OUR WEBSITE!
Use the Open Table App Above or give us a call! Large parties should give us a call at 508-432-4600. The best time to reach us is Wednesday - Saturday between 12 noon and 9 PM. Please do not email for reservations.

Bar Seats and High Tops are available! Give us a call or pop in for those seats!


TAKE OUT/ TO GO
We are not offering take out or to go at this time.

COMPLIMENTARY VALET PARKING
We encourage our guests to walk or bike when possible. We are offering complimentary valet parking directly in front of Pisces. Please pull your vehicle as far forward as possible and our delightful valet will present a ticket in exchange for your keys. If you are not comfortable using our valet service. Please park in the direction of traffic on Forest Beach Road. Do not block driveways or hydrants and please be respectful of our neighbors and neighborhood. Parking is not permitted across the street at Christmas Joy. Additional parking is available at the South Chatham Community Church located at 2555 Main Street.

Check out Chef Sue Connors on this episode of:
NEW ENGLAND
For the second episode of New England Living TV, we spend time in the charming Cape Cod town of Chatham. Homeowners Gail and Steve were kind enough to welcome us into their stunning oceanfront home which was designed by Architect Patrick Ahearn and constructed by Whitla Brothers Builders. Host Parker Kelley takes viewers on a tour of the entire home as well as the beautifully-designed outdoor spaces. She then spends time with

Sue Connors, chef/owner of Pisces Restaurant,

hopping around town to purchase fresh seafood and other delicacies which they prepare for the evening's gathering of friends at Gail and Steve's.
FACES OF CHATHAM
TOP CHEFS
Text by Lisa Leigh Connors - Photography by Paul Blackmore
CHATHAM MAGAZINE
At Pisces, Connors lets the food speak for itself. "You don't need to add a lot to the fish here in Chatham," says Connors, who works with local weir fishermen who bring in squid, bluefish, flounder and black bass, among many others. One of the most popular dishes is the fisherman's stew (pictured), which showcases local fish: sautéed shrimp, mussels, clams, scallops and codfish in a spicy lobster broth with cilantro and lime juice. "We just enhance what is already there," says Connors. In the off-season—the restaurant closes Columbus Day weekend—Connors enjoys traveling to the West Coast and down south to broaden her culinary horizons and get ideas for presentation and cocktails. Back at her restaurant, she says the biggest compliment she receives from customers is that they feel like they are at home in the 12-table dining room. "We keep it simple," says Connors, "but not too simple where it's boring.
FISHING FOR REAL FOOD: THE LOCAL EXPERIENCE
by edible Cape Cod on May 6th 2015 in Online Magazine, Spring 2015
Story by Russell Kingman

Not every morning on the docks, or on the weirs, is routine. In fact, some days there are things that happen that change your whole life. One early morning in April, I arrived at the docks to find about twenty people waiting. I was still partially asleep as I walked by them and went into the building to find my boots.
Pisces is in September 2014 issue of Cape Cod MAGAZINE.
You won't find a fryolator or heat lamps in the kitchen at Pisces, says
co-owner and chef Sue Connors ...
Pisces is featured in Cape Cod Chef's Table.
Cape Cod, Massachusetts is, roughly, a 70-mile peninsula divided into 15 towns, each with its own unique personality, history, and gastronomic adventure. Cape Cod's culinary landscape is evolving. Yes, there are still the delicious fried clams, fresh broiled or grilled fish, and lobster rolls that have always been favorites, but many of today's chefs are reinventing these traditional foods with a twist. Today's Cape presents a thriving and unique culinary landscape and Cape Cod Chef's Table gives readers, locals, and visitors a new perspective on this culinary scene. With recipes for the home cook from the Cape's celebrated eateries and purveyors alongside beautiful full-color photos, Cape Cod Chef's Table is the ultimate gift and keepsake cookbook.
Rosie and Loretta were featured in,
THE CAPE COD CHRONICLE, SEPTEMBER 15, 2016 issue